In need of a cheap bag for the excessive luggage I planned to take on my recent tour, but needing also to pinch some pennies, I splurged a whole £10 on the QBag Waterproof Roll Bag 3. I didn't expect greatness from it, and took a couple of bin bags to line it,
just in case
. The way I saw it, I just wanted it to last this one trip, and anything further would be a bonus.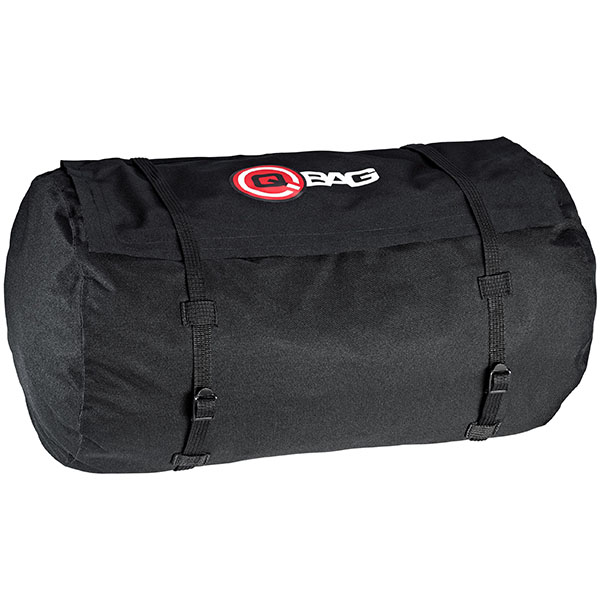 It's a single compartment 50 litre bag, closed with a zip with those rubber bits over the teeth, which is itself covered with a flap held down with velcro. The inside is lined, and the seams are taped.
There are no handles at all on the outside, which is just weird, and makes it very cumbersome and annoying to carry when full. But then again, it was only a tenner.
There are a number of loops for threading the webbing straps through for attaching it to the bike, but the two straps provided are a single length each, with a single plastic tag thing to double it back though. Didn't seem very convincing, and not wholly sure how I'd have used them to attach it to my bike, but then again it was only a tenner.
I used rok straps for my trip, which were very good - separate review to follow (eventually, probably).
After 2k miles of touring and one Forum Rally, one of the strapping loops is fraying slightly at the edge, but there's no other signs of wear. To my surprise, it remained waterproof through 4 hours of riding in clouds and rain, whereas the cheap navy surplus goretex trousers I had on didn't.
For a tenner, I'm massively impressed. I think I'd possibly spend a bit more and get a lomo or Oxford bag next time, mainly so that I didn't have to unthread and rethread the straps each time I took the bag on or off, but this one certainly did the job I asked of it.