Hi all, I've just signed up to share something that I am now committed to doing (at first willingly and now it ended up being a bigger project than I though...). Also not sure if this is a scooter friendly place but I guess I will find out!
Example - not the one I bought but this is a reference to what it should look like in black.
I bought a Honda FES125 S Wing 2014 scooter from a police auction, stolen and recovered. Initially it didn't seem to be in to bad a shape and it was one up from my little old Piaggio that felt a bit like a toy on bigger roads.
Stated problems before purchase:
1. Top side fairings broken where they tried to get to the ignition (they didn't touch any wiring apparently, they had rolled it off around the corner before breaking the panels and getting caught early).
2. Small front triangle fairing between headlights missing.
3. Outer dashboard trim missing exposing the casing hole for replacing the bulbs.
4. Steering lock broken (not sure if I can re-seat it I haven't looked yet).
5. Number plate cracked but acceptable, easy to replace so no problem.
Problems discovered after purchase, note that I was not able to view before buying and I know I was taking a risk:
6. Steerer out of alignment (I'm not a very experienced rider so I'm surprised I managed to ride it away with this!)
7. Additional wires going straight to battery, seem to be for accessories but I'm yet to identify exactly what. One seems to be for the hot-grips which had blown the main 30amp fuse (wire had been slightly ripped out of the controller). I removed these and replaced the fuse before I could ride off. Also put in a lithium battery while I was in there...
8. 22k miles and I'm thinking it hasn't been well services, will need to take a look through it all.
9. Rear wheel makes a rubbing sound when walking the bike around, I guess it could be pads but yet to look. It does run fine when riding.
10. FILTHY!
I've done about 10 miles to get it to a location to store it, still a long way from home though as problem 6 makes me not want to do a long trip. I'm also cautious that problem 1, 2 & 3 will get me pulled over or get my neighbours suspicious... Doesn't really matter as I have all the docs and police tags to prove it but I'd like to ride into my road on a shiny new (well, second-hand...) bike.
I'd like to resolve 1, 2, 3 and 6 right away and I've started making some plans. For the fairing I've been looking at HIPS sheet plastic about 2mm, I'm going for a flexible and bouncy approach if it ever gets knocked rather than hard solid plastic that could crack/lose pieces again.
Does anyone have any ideas for the materials?
It would also be best to be able to cut it out in a car park without power tools. Once I get home I can take them off again and use a heatgun to get some curves in or something.
Example - in white to clearly show the red outline of what needs to be replaced. After this are the parts that I could source for a couple of hundred £
Does anyone have any ideas for the design of the top side panels? (or I've started calling them sideburns)
To be honest I'm not to keen on the default design with the curved shape and inward grove, apart from where it meets up with the headlight neatly. I also don't like how it is all one piece that wraps under the wheel arch - a nightmare to replace if I could. I'm happy to epoxy it overlapping the current fairing so there is like a step / vent style although not functional. Thought about adding a pop of colour here or maybe a gunmetal gray colour and texture. I'm trying to see this as an opportunity rather than a problem.
Example - metal and paint mixed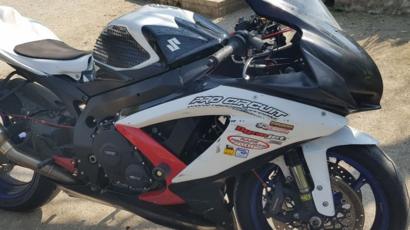 Example - colour pop on one fairing, although white I couldn't find other examples of what I mean easily
For the steerer I tried a pair of ratchets on the bolt that goes through the steerer rod... This loosened it up slightly but I couldn't turn it back straight. I've seen two other things to try but I'm not completely sure. One is to loosed a large nut that sits with the steerer through it, I can see it had threads next to it (I've just order an adjustable wrench big enough for this). The other is to loosen two bolts on either side at the bottom end of the fork and pump it down until they straighten. As the steering lock is broken I'm pretty sure its the steerer so will try the forks last if needed.
Does anyone have any advice for the method / safety checks to do afterwards? I couldn't find the manual and the panels are a pain to get off around it to see any marking on the metal, any idea on the torque?
After all this I will bring it home and move on to problem 9. Once the list is finished I'm the type of person to make a new list... I can't help it. Maybe even get another bike that comes with a list! Any comments are appreciated, if none come through I will probably still post up what I have decided to do.
Will add an actual picture of it later, as I said its not with me right now so on my next visit with my tools I will show you all.
Thanks,
Anthony